It came to my attention tonight that there is ANOTHER show next weekend, in addition to the Popfest! New England/Yo La Tengo madness I mentioned a few days ago. So here's another option for you to weigh:
Blevin Blectum
at the Hampshire College Dining Commons on Friday, November 9th, probably around 8:30pm & probably free or cheap (but this being a Hampshire show & information being hard to come by, don't quote me on that). One half of the defunct laptop-fuckery/IDM duo Blectum From Blechdom, she's also collaborated with Matmos, DAT Politics, The Soft Pink Truth & a bunch of other bands you may or may not like, in addition to doing her solo electronica act. If you're vehemently against going to an indie pop show that night, you should probably go to this or risk being a loser forever.
Also, this one's a little bit further off on the horizon, but some advance warning anyway: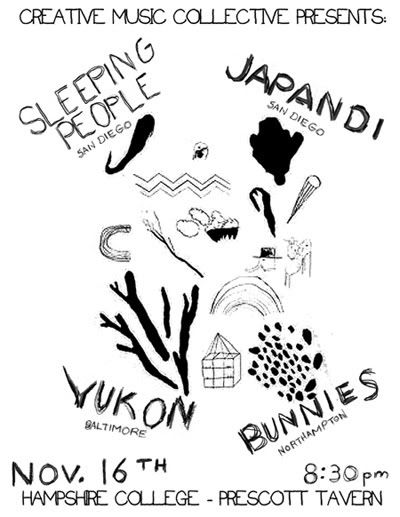 Sleeping People
(on
Temporary Residence Records
),
Japandi
,
Yukon
&
Bunnies
at the Prescott Tavern at Hampshire College, Friday, November 16th at 8:30pm. Cost? Again, probably free or cheap. If you're into the technical, instrumental math-rock thing (see: Don Caballero, Hella, so on & so forth), you'd probably be smart to jump on the Sleeping People bandwagon. They're also starting a tour with the Locust soon, if that's any indication. Go & feel good about yourself for going to Five College campus shows so that they can keep happening, hopefully.