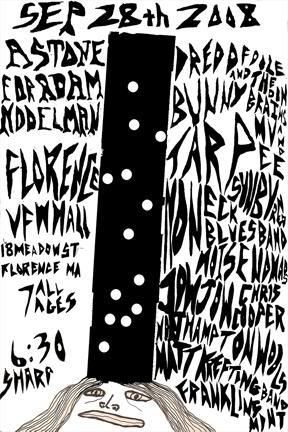 For those unaware, Adam Nodelman from Sunburned Hand of the Man passed away suddenly last month. A benefit show for him is this Sunday. Lineup details are as follows:
No Neck Blues Band (playing very early)
Sunburned Hand of the Man
Dredd Foole & the Din (feat. J Mascis, John Moloney & Justin Pizzoferrato)
Fat Worm of Error
Northampton Wools (Bill Nace & Thurston Moore)
Tarp (Joshua Burkett & Conrad Capistran)
Noise Nomads
Bunny Brains
Matt Krefting Band
Franklin's Mint
Jow Jow
MV & EE
+ maybe one more act
Florence VFW - 18 Meadow Street (route 9), Florence, MA
$7 - All Ages (additional donations appreciated)
6:30pm SHARP!
Look for Dredd Foole & The Din to crank out some Stooges covers.